Immediate Release
Phuket, Thailand – Up to Rental Yield of 8% opportunities for savvy investors in 2023
The Origin PCL – Listed Developer in Thailand
First and ever pool-access units created by the developer
Exclusive Foreign Quota First Pre-Sales Launching in Hong Kong this 22-23 JULY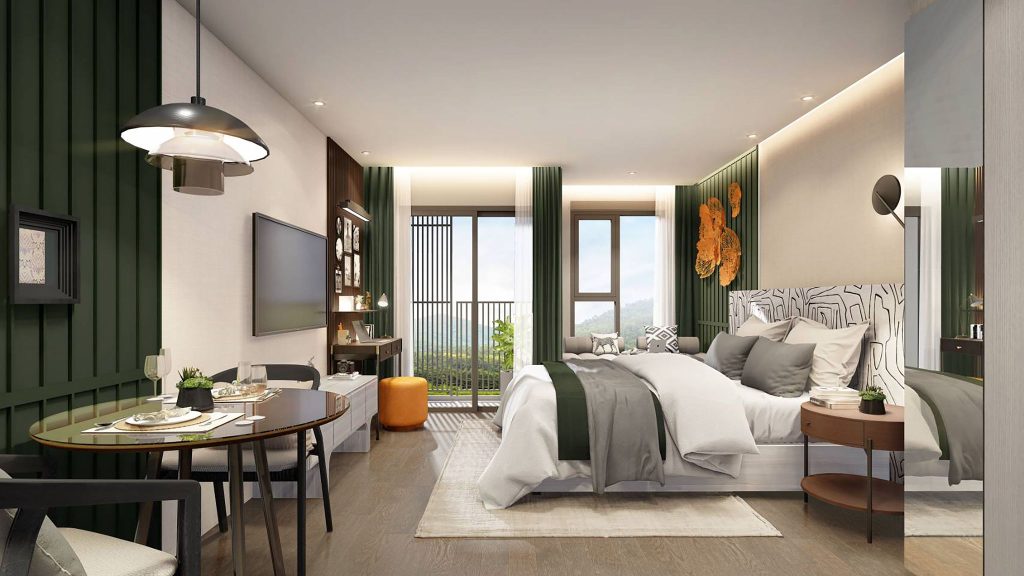 (Hong Kong – 17th July 2023) Nestled between Patong Beach and the historic Old Town, The Origin Kathu-Patong in Kathu District is a low-rise and luxury residential project consisting of three blocks and eight-storey buildings, a clubhouse and 7 retail shops, offering a total of 617 units, expected to be completed in 2025 Q3. The freehold property has five types of rooms, including 25 square meters of open-plan units, 28 square meters of leisure open-plan units, 28 square meters of one-bedroom units, and 34 square meters of master rooms with attached rooms Units and 47-square-meter two-bedroom sea view suites are priced from HK$490,000 (2.2 million baht), and the annual rental return is expected up to 8%. Spanning 6-2-84 rai (or 10,736 sqm), The Origin Kathu-Patong is equipped with state-of-the-art facilities including lobby, shared studio, fitness center, swimming pool, connecting pool rooms, sky garden and laundry room. The apartment car park also provides parking spaces equivalent to 42% of the units for residents to use.
Thailand – the land of property ownership and investment opportunities
The Origin Kathu – Patong project follows the record-breaking performance of Origin Property and its affiliated companies to achieve a pre-sale target of 117%, and expects a strong net profit growth of 18% year-on-year in December 2023 (up to 3.775 billion baht net profit) The real estate projects launched under the performance reflect the solid advantages and future growth potential of Thailand's real estate market.
A world-class tourist destination that welcomes more than 16 million tourists a year, Phuket is poised to benefit from Thailand's status as the second-largest leisure travel country for health and wellness. Its relatively affordable cost of living and continuous improvement projects, such as Phuket Smart City, are particularly attractive to digital nomads, retirees and foreigners looking for a second home, while rising property prices and high rental yields are also investment opportunities. or maximize their return on investment.
Mr. Kingston Lai , Founder and Chief Executive Officer of Aston Hawks, the exclusive general agent of Origin Property in Hong Kong, said: "The Origin Kathu-Patong offers resort-style facilities, and its reasonably priced units are suitable for self-use or investment with high rental returns. The swimming pool is rare in the market The pass-through housing type is also more attractive to buyers. Given the growing trend of real estate investment in Phuket, we expect a very high demand for units."
Ashton Hawks will exclusively pre-sales launch The Origin Kathu-Patong in Hong Kong at 27/F, Park Lane Hotel, Causeway Bay on 22nd & 23rd July 2023. Interested parties please sign up the RSVP here or contact Customer Service Hotline 5226 1138
About The Origin
Origin Property PCL is committed to providing customers with high-quality property products and services, and contributes to the development of the real estate industry through four core businesses of residential development business, recurring income business, service business and emerging business.
In terms of residential development, the company has developed more than 130 residential and apartment projects with a total value of more than 197.581 billion baht as of the first quarter of 2023, covering all customer groups. Under major brands, such as Park Origin, So Origin, Origin Plug & Play, Origin Place, The Origin, Kensington, Hampton, Origin Play, Brixton and Britania, etc., the company provides a variety of property options to meet Various needs of customers.

https://en.origin.co.th/
About Ashton Hawks
Ashton Hawks was established by a group of renowned investment gurus and private collectors who laid the very foundation of the discerning Ashton Hawks, balancing luxury leisure lifestyle and investment. Our headquarter office is located in Hong Kong, with overseas branches in Bangkok and Vietnam. Ashton Hawks' real estate portfolio is as diverse in style as it is in mega-estate location across the globe, and caters to luxury lifestyles of all kinds. Ashton Hawks takes pride in being a boutique yet original real estate consultant in the luxury market segment for the ultra-affluent.
For media enquiries, please contact:
Ashton Hawks Marketing Department
Tel: (852) 2155 4421/5226 1138
RSVP
Thai VISA and Property Investment Seminar