Immediate Release
Chiang Mai, Thailand – Top investment Opportunity for Overseas Property
THE BASE Height-Chiang Mai by Sansiri Thailand's Top Property Developer
No.1 Lucrative Investment and Vacation Home for Expats
Exclusive Foreign Quota First Pre-Sales Launching in Hong Kong this 11-12March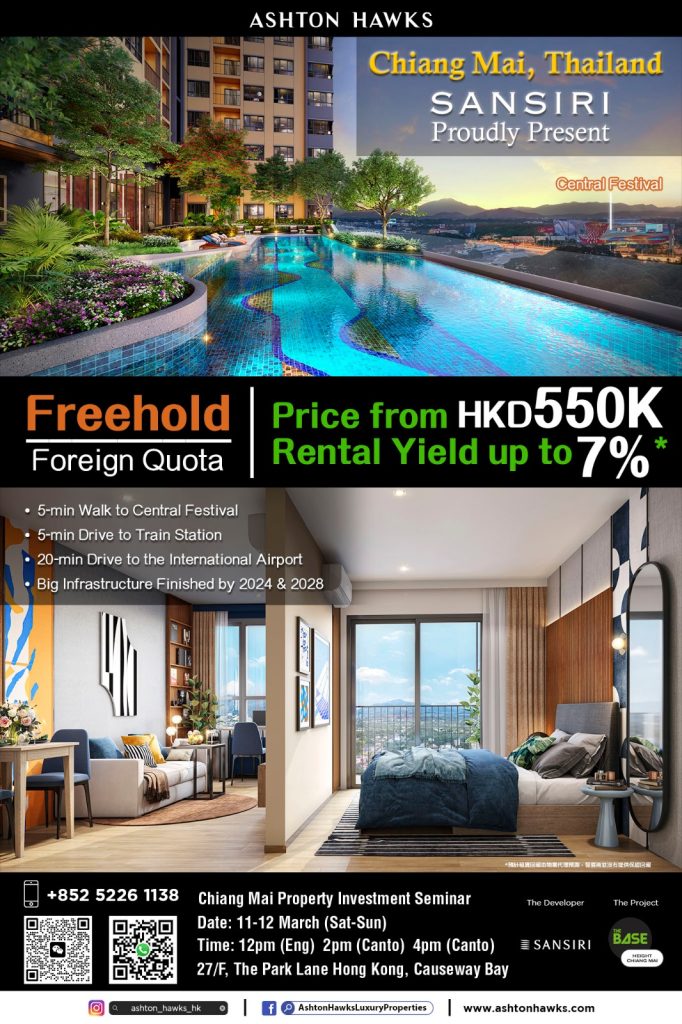 (Hong Kong – 1st March 2023) As one of the largest economy in South East Asia, Thailand has a strong GDP worth over USD500 billion, even surpassing Hong Kong. Chiang Mai city is ranked among of world's top travelling destination not only the economic and cultural centre of northern Thailand, but also a vibrant city of art, lifestyle, history and culture. As Chiang Mai's fast-developing economy presents an exuberant and low-cost living that comes with it, countless foreigners and locals are being drawn to the city. In response to the soaring demand for local residences, Thailand's leading real estate developer Sansiri, Thailand's most trusted full-service property developer with the highest sales volume among Thai developers in international markets over 10 years, is launching THE BASE Height-Chiang Mai, is the company's first high-rise freehold condominium in Chiang Mai with nice city vista near the Central Festival Mall in 3 minutes with Ashton Hawks, offering limited exclusive foreign quotas in their pre-sales launching event that will be held on 11th to 12th March at 27/F, Park Lane Hotel, Causeway Bay in Hong Kong, with prices starting from HKD550,000.
Popular Choice for a Second Home | A resort-lifestyle for Families, Digital Nomads and the Thai Locals
With a unique natural scenery combined with the convenience of a cosmopolitan lifestyle, Chiang Mai has become a popular destination for families, couples and digital nomads to migrate to or live in recent years. Earlier, the Thai government implemented a policy which offers a 10-year residency visa to foreigners with assets worth over USD 1 million or an annual income of over USD 80,000 in the past two years along with additional privileges, in order to attract more people to make Chiang Mai their second home. What comes with a low living cost are full-range services, a cool climate, extensive infrastructure and multiple historical and cultural landscapes nearby, including Buddhist temples with various architectural styles. Its safety index is ranked 13th among its hundreds of competitors worldwide, which makes it a desirable destination for both residents and travellers, especially in light of the increasing emphasis of work-life balance nowadays. Chiang Mai's transport network is also optimizing with the planned bullet trains from Bangkok and LRT (Light Rail Transit System) in Chiang Mai city, which will bring more convenient and efficient transport links to the city.
Chiang Mai appeals to not only foreign visitors and expatriates but also local citizens. Every year, Buddhist believers flock to local temples throughout the city, with over 7 million domestic visitors recorded in 2018. Chiang Mai is easily accessible by inland flights, trains, night buses, etc. It takes as fast as just one hour and 20 minutes to reach Chiang Mai from Bangkok. Temples are seen all over Chiang Mai. To name a few, they have the 1300-year-old Wat Phra That Doi Kham, the locals' favourite, the Doi Suthep, a symbol of Chiang Mai and the Wat Chedi Luang which is situated inside the old city.
Post-pandemic Tourism Rebound Drives a Full Economic Recovery
As the pandemic eases off, travel restrictions have loosened up in many countries. In 2022, Thailand's tourist arrivals have already returned to a quarter of their pre-pandemic levels. Tourism is the major contributor to Thailand's economy, accounting for 25% of the country's GDP. Before the pandemic, the annual tourist arrivals in Thailand had reached 40 million, of which 1.27 million visited Chiang Mai. It is expected that Thailand's tourism will recover tremendously in 2023, attracting at least 25 million tourists, hence maintaining its position as the best holiday haven in South East Asia and bringing Thailand's economy back to its peak.
Emerging Property Market Offers High Return | Paradise for Residents and Investors
Chiang Mai, second largest city of Thailand, is one of the fastest-growing real estate markets in the world and is home to up to 30,000 digital nomads while is ranked one of world's top travelling destination. 'There is not much supply of similar properties in Chiang Mai. With an increasing number of digital nomads choosing to reside in the city, the demand for high-quality, fully furnished condominium is rising. THE BASE Height-Chiang Mai will hence bring forward remarkable residence options in the heart of Chiang Mai,' said Mr. Frederick Ho, Managing Director & Partner of Ashton Hawks. He further commented, 'Many Hong Kong investors have since then seized the opportunity to invest in rising stars such as Chiang Mai especially buying from trusted developer with strong proven track record both in Thailand and international market, excellent after sales service like Sansiri Plc., expecting a lower capital threshold and a return that is double that of the local Hong Kong market.' The gross rental yield of THE BASE Height-Chiang Mai is estimated at 7% p.a.*, outperforming other properties in the city due to its attractive location near Central Festival Mall'
Major Infrastructure Completion | Benefitting Chiang Mai's property market
The Thai government's plans to expand Chiang Mai Airport, building the Second Chiang Mai International Airport, Chiang Mai Light Rail Transit and the Bangkok-Chiang Mai High-Speed Rail will benefit the property market's constant development. 'Multiple major infrastructure projects are due to gradually complete in 2024 and 2028. Chiang Mai is expected to become the fastest growing city in Asia and, with it, the fastest growing real estate market, attracting forward-thinking investors to purchase homes in Chiang Mai early and create more real estate dividends from the infrastructure,' said Mr. Frederick Ho.
A Rare and Unique Residential Combining Convenience and Quality of Life
THE BASE Height-Chiang Mai is proudly presented by Sansiri Plc, Thailand's most trusted full-service property developer with the highest sales volume among Thai developers in international markets over 10 years. The project location is a mere 5-minute walk to the Chiang Mai's biggest shopping mall, Central Festival Walk. It is also a 5-minute drive to the train station and a 20-minute drive to the Chiang Mai International Airport. For those who enjoy a variety of lifestyle and entertainment, it is a 20-minute drive to the local natural hot springs and a 35-minute drive to the golf resort, offering a combination of lifestyle, entertainment, and historical and cultural attractions. With the gradual completion of major infrastructure projects such as the Chiang Mai Light Rail Transit, the accessibility of the area will be enhanced further. The project offers a total of 630 units, ranging from 29.25 sq.m to 56.5 sq.m, with 1 to 2 bedroom, with an estimated average rental yield of 7% p.a.* Owing to the limited foreign quota, only 80 units are available for the Hong Kong pre-sales launch, and overseas residents are entitled to a freehold condominium with prices starting from HKD550,000.
Ashton Hawks will exclusively pre-sales launch THE BASE Height-Chiang Mai in Hong Kong at 27/F, Park Lane Hotel, Causeway Bay on 11th & 12th March 2023. Interested parties please sign up the RSVP here or contact Customer Service Hotline 5226 1138
About SANSIRI
With over 39 years of experience, Sansiri is Thailand's most trusted full-service real estate developer. With a workforce of over 4,000 employees, Sansiri has built more than 400 projects with over 5 million sq.m. throughout Thailand. Including a residential building in London, all with a strong emphasis on design and liveability. Sansiri provides comprehensive services covering wide range of segments from affordable premium to luxury that go beyond those of traditional developers: concierge services, property management, sales brokerage, and long-term resort rentals. Sansiri believes in constructing lives, not just buildings. Through its innovative products, after-sales, and concierge services, Sansiri offers its residents more than just a home; it presents them with a "way of life". Sansiri is widely regarded as Thailand's leading developer of quality houses, townhomes and condominiums. Constructing meticulously designed, well-made homes, it strives to continuously improve the quality of life of our residents. With its subsidiary companies Plus Property Agency, Quintessentially Concierge and Rental for the Holidays Lettings allow the group to fully attend to the needs of the customers all alongside. www.sansiri.com
About Ashton Hawks
Ashton Hawks was established by a group of renowned investment gurus and private collectors who laid the very foundation of the discerning Ashton Hawks, balancing luxury leisure lifestyle and investment. Our headquarter office is located in Hong Kong, with overseas branches in Bangkok and Vietnam. Ashton Hawks' real estate portfolio is as diverse in style as it is in mega-estate location across the globe, and caters to luxury lifestyles of all kinds. Ashton Hawks takes pride in being a boutique yet original real estate consultant in the luxury market segment for the ultra-affluent.
For media enquiries, please contact:
Ashton Hawks Marketing Department
Tel: (852) 2155 4421/5226 1138
RSVP
Thai VISA and Property Investment Seminar