Waterhouse Gardens
---
Manchester, United Kingdom
HKD 2,500,000+
Since Manchester City has a history of more than 100 years, the British government has invested billions of dollars in urban renovation, greatly increasing the local investment potential. Among them, the two most eye-catching redevelopments in northwest England are N.O.M.A's 800 million large-scale revitalization area and Northern Powerhouse Scheme, which is adjacent to 500 billion high-speed rail facilities and can directly connect to London in one hour. And close to NOMA and the Victoria Station, the Great Ducie Street Strategic Regeneration Framework is another remarkable regeneration, that planned for homes in "buildings of scale" and 2.8m sq ft of commercial space. With the reconstruction plan, the government intends to use this to expand the city center of Manchester, and the demand for property prices and rental services in the area will further increase.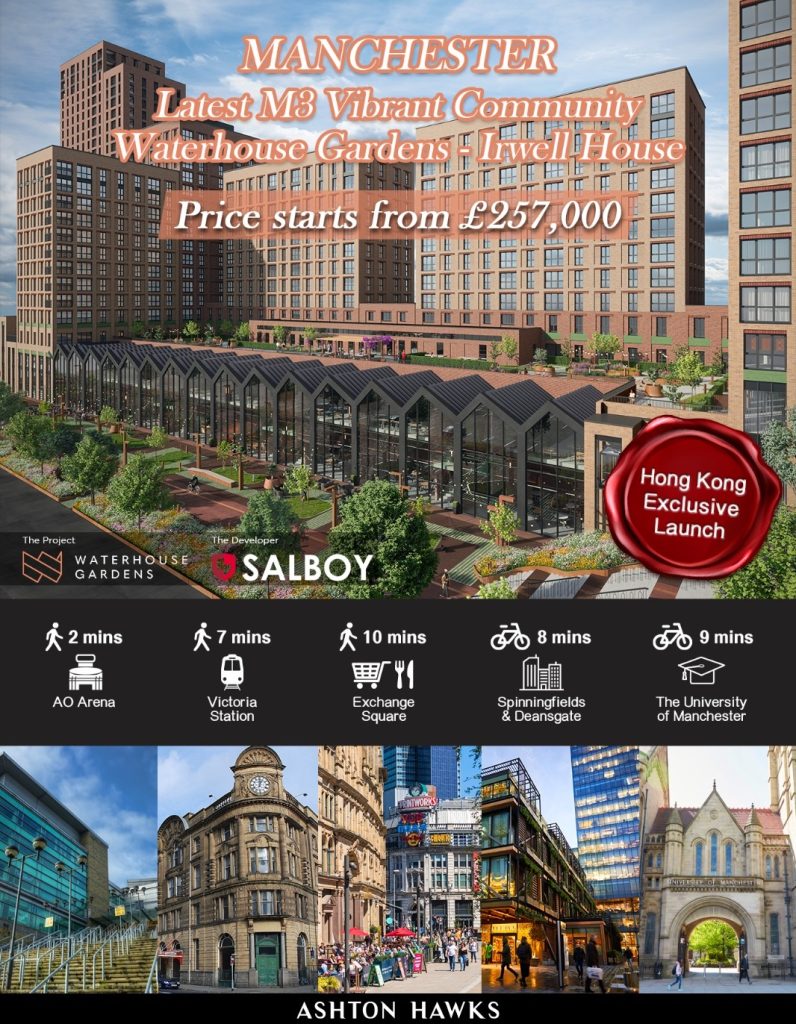 Ashton Hawks proudly introduces the 1st official Hong Kong launch with the 1st price list of Waterhouse Gardens Irwell House Phase 1, is an impressive 26-storey with 181 units located on the M3 centre of the Manchester. The projects provide 1,2 & 3 bedrooms with the starting price £257K, we provide investors to secure and preview the best units of the project. There are 3 different types of views from the project, you can have the units with N.O.M.A., Greengate view with river or City Centre view. Salboy is an award-winning UK property development company known for delivering first-class developments in prime Manchester, London and Cornwall locations.
Waterhouse Gardens provides Waterhouse Club and Private Podium Garden which including the lounges, private cinema room, private dinning space, co-working space, squash court, basketball half-court, indoor swimming pool, ice plunge, spa and gym room as well. 
10 Highlights of Waterhouse Gardens Irwell House 
Price from £257K | Downpayment from £64K

Built by renowned Manchester developer Salboy 

999 years household | Pet-friendly apartment 

Estimated Completed: Q2 2026

3-min walk to Manchester College City Campus

5-min walk to AO Arena

8-min walk to Exchange Square Shopping District and Sainsbury's Local, Greengate 

8-min walk to New Bailey CBD Extension 

10-min walk to N.O.M.A. 

15-min walk to Spinningfields 
City Centre Regeneration Area
It is a testament to the city's resilience, innovation, and commitment to urban renewal. This area, once marked by industrial decline, has been transformed into a vibrant hub of culture, commerce, and community. The regeneration project has breathed new life into the city centre with a mix of modern residential buildings, thriving businesses, and public spaces. It's a place where historic architecture seamlessly blends with contemporary design, embodying Manchester's rich history while looking forward to a dynamic future. The area is now buzzing with activity, attracting residents, tourists, and businesses alike, reflecting Manchester's ongoing evolution as a world-class city.
The development aspirations set out within the Great Ducie Street Strategic Regeneration Framework area, which includes the former Boddington's Brewery Site, envisages the creation of a mixed use neighbourhood with a strong sense of place and community. Building on the existing successful commercial base, it will deliver an appropriate balance between commercial educational and residential opportunities.
Salboy – A Leading Developer in Manchester

£950m Development Pipeline | 2,500+ Homes Delivered | 3,500+ Jobs Created
Salboy is a property development company based in Manchester, UK, that is known for delivering high-quality residential and commercial projects. The company was founded by Simon Ismail and Betfred co-founder Fred Done, and has quickly gained a reputation as one of the top developers in the region. Salboy's portfolio includes a variety of projects ranging from luxury apartments to student accommodation and hotels. The company is committed to creating innovative and sustainable developments that meet the needs of modern living, and has won several awards for its work.