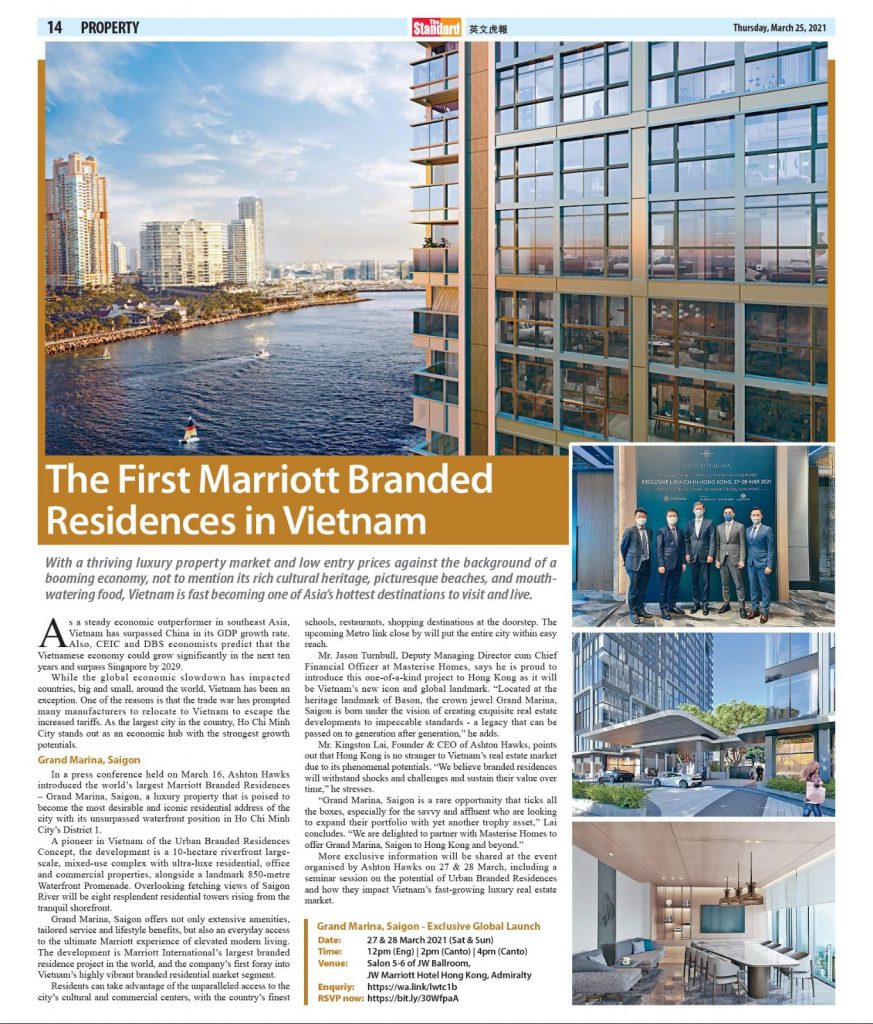 With a thriving luxury property market and low entry prices against the background of a booming economy, not to mention its rich cultural heritage, picturesque beaches, and mouthwatering food, Vietnam is fast becoming one of Asia's hottest destinations to visit and live.
As a steady economic outperformer in southeast Asia, Vietnam has surpassed China in its GDP growth rate. Also, CEIC and DBS economists predict that the Vietnamese economy could grow significantly in the next ten years and surpass Singapore by 2029.
While the global economic slow down has impacted countries, big and small, around the world, Vietnam has been an exception. One of the reasons is that the trade war has prompted many manufacturers to relocate to Vietnam to escape the increased tariffs. As the largest city in the country, Ho Chi Minh City stands out as an economic hub with the strongest growth potentials.
Grand Marina, Saigon
In a press conference held on March 16, Ashton Hawks introduced the world's largest Marriott Branded Residences – Grand Marina, Saigon, a luxury property that is poised to become the most desirable and iconic residential address of the city with its unsurpassed waterfront position in Ho Chi Minh City's District 1.
A pioneer in Vietnam of the Urban Branded Residences Concept, the development is a 10-hectare riverfront largescale, mixed-use complex with ultra-luxe residential, office and commercial properties, alongside a landmark 850-metre Waterfront Promenade. Overlooking fetching views of Saigon River will be eight resplendent residential towers rising from the tranquil shorefront.
Grand Marina, Saigon offers not only extensive amenities, tailored service and lifestyle benefits, but also an everyday access to the ultimate Marriott experience of elevated modern living. The development is Marriott International's largest branded residence project in the world, and the company's first foray into Vietnam's highly vibrant branded residential market segment.
Residents can take advantage of the unparalleled access to the city's cultural and commercial centers, with the country's finest schools, restaurants, shopping destinations at the doorstep. The upcoming Metro link close by will put the entire city within easy reach.
Mr. Jason Turnbull, Deputy Managing Director cum Chief Financial Officer at Masterise Homes, says he is proud to introduce this one-of-a-kind project to Hong Kong as it will be Vietnam's new icon and global landmark. "Located at the heritage landmark of Bason, the crown jewel Grand Marina, Saigon is born under the vision of creating exquisite real estate developments to impeccable standards – a legacy that can be passed on to generation after generation," he adds.
Mr. Kingston Lai, Founder & CEO of Ashton Hawks, points out that Hong Kong is no stranger to Vietnam's real estate market due to its phenomenal potentials. "We believe branded residences will withstand shocks and challenges and sustain their value over time," he stresses.
"Grand Marina, Saigon is a rare opportunity that ticks all the boxes, especially for the savvy and affluent who are looking to expand their portfolio with yet another trophy asset," Lai concludes. "We are delighted to partner with Masterise Homes to offer Grand Marina, Saigon to Hong Kong and beyond."