Press Release
ParkCity Hanoi – The Mansions To be Launched Exclusively in Hong KongA One-of-A-Kind Investment in the Midst of Hanoi's Soaring Economy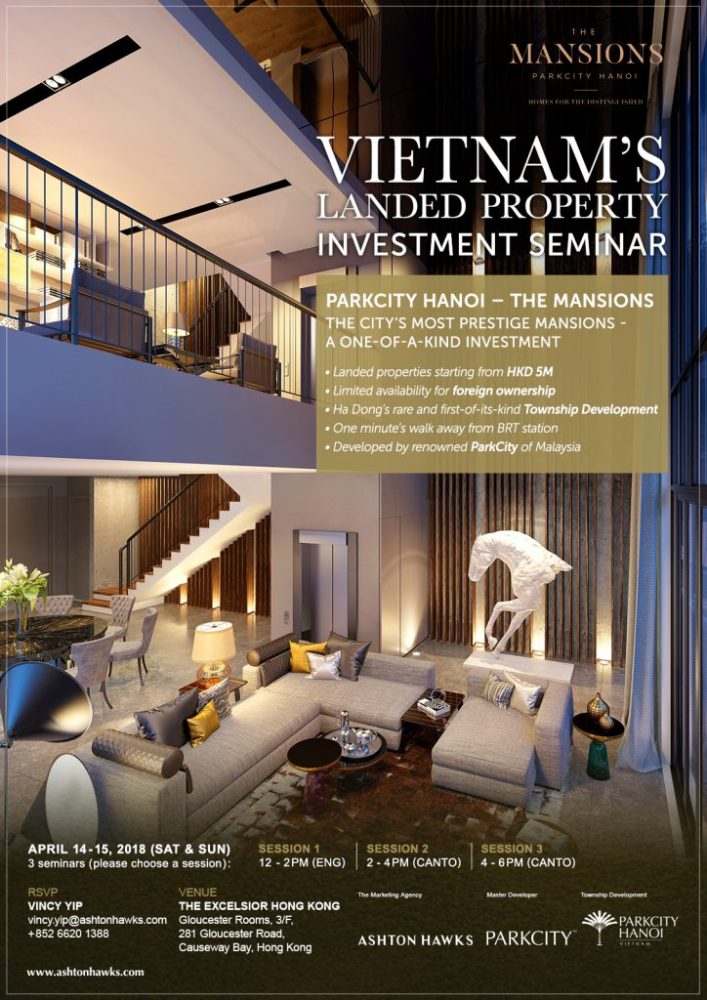 (April 6th, Hong Kong) Ashton Hawks will be partnering with Malaysia's renowned developer, ParkCity to launch ParkCity Hanoi- The Mansions, a collection of 3 and 4-storey landed properties within Hanoi's first prestigious township development, with prices starting from only HKD 5M at an average of HKD 1,600 per square foot. Landed properties are highly demanded even among local investors and with limited foreign ownership availability restricted by the government, this residential oasis is a rarity of its kind for overseas investors.
Vietnam has attracted much attention of overseas investors in the South East Asia property market as it flourishes under a strong economic trajectory and the Vietnamese government has implemented a series of reformation strategies to accommodate its soaring economic growth. The country's outperforming GDP in Q1 of 2018 increased to 7.38% from 6.81% at the end of 2017. As the capital city, Hanoi's property market is predicted to escalate as the city transforms into a businesses hub in the ASEAN region and benefits from China's the 'One Belt One Road' initiative.
The country's opening up to foreign property ownership has created much excitement for investors since 2015. Hanoi especially thrives under the spotlight as a core for businesses, trades and manufacturing. Its strong economic growth has attracted an influx of overseas capital injection which indirectly prospered a market boom. "Landed properties in prime location are highly demanded among local investors as land is limited in supply. Moreover, the number of units owned by foreigners must not exceed 250 landed property units in one particular administrative ward" said Mrs. Michele Cheng, Director of Ashton Hawks. With regards to her insight, "ParkCity Hanoi – The Mansions is the first landed property to offer a 10% foreign ownership which makes it a rarity among affluent residences in the city."
ParkCity Hanoi – The Mansions, is developed by Malaysia's renowned ParkCity, a subsidiary of the long-history global corporation, Samling Group. This distinctive property is nestled in the center of Ha Dong and is the first township development in Hanoi providing easy access to the newest CBD of Nam Tu Liem, manufacturing district of Bac Ninh through Ring Road 3 and the traditional CBD Hoàn Kiếm. The nearest BRT station, completed in 2016, is a one-minutes' walk from the gated entrance. Besides its very own ParkCity Mall targeted to be completed bu end 2019, and international school, the township is surrounded by educational institutions like Hanoi University, Hanoi Architectural University and Japanese International School. Aeon Mall, to be completed in 2019, is reachable with a 5-minutes' drive which will be able to satisfy the lifestyle and entertainment needs of its residents.
The Mansions, to be completed in Q1 to Q2 in 2020, is a gated community that offers 3- and 4- storey landed properties at sizes ranging from 3,524 to 5,216 square feet with a starting price of HK $1,600 per square foot.  Residents of The Mansions can enjoy its exclusive private clubhouse as well as ParkCity Hanoi Club's lavish amenities like its lap and kids pool, BBQ garden, gymnasium, meandering gardens and a multipurpose hall. This residential oasis offers 24-hour gated security, promising a private and distinctive living space.
The upscale ParkCity Hanoi – the Mansions, is well perceived by Ashton Hawk's Director, Mr. Fred Ho, "it sits at a prime location and will be able to attract the city's distinctive professionals, including a community of embassy elites." The government of Hanoi has supported large-scale infrastructure projects including the expansion of Noi Bai International Airport, a new CBD development at Nam Tu Liem and the network of an MRT system to be completed in 2019. The nearest MRT station to The Mansions will only be a 15-minute walk and the new CBD Nam Tu Liem is only 6 stations away. Mr. Ho continues, "as the economy prospers in Hanoi, the city's executive population will rise, and along with a decline of freehold land in prime locations, the value of any properties situated in convenient locations are prospected to boom."
To discover the potential of this one-of-a-kind investment opportunity, ParkCity Hanoi – The Mansions, will be launched on April 14th (Saturday) and 15th (Sunday) 2018, during the Vietnam Landed Properties Investment Seminar at The Excelsior Hong Kong, Gloucester Rooms, 3rd Floor, 281 Gloucester Road, Causeway Bay.
Investment Seminar
April 14 – 15th, 2018 (Saturday and Sunday)
Please choose one of the following sessions:
Session 1: 12pm – 2pm (English)
Session 2: 2pm – 4pm (Cantonese)
Session 3: 4pm – 6pm (Cantonese)
Address: The Excelsior Hong Kong 3/F Gloucester Rooms
281 Gloucester Road Causeway Bay Hong Kong
For media enquiries, please contact:
Jacqueline Tsang
PR & Marketing Assistant
Tel: 21520488
Email: [email protected]
About Ashton Hawks
Ashton Hawks was established by a group of renowned investment gurus and private collectors who laid the very foundation of the discerning Ashton Hawks, balancing luxury leisure lifestyle and investment. Our headquarter office is located in Hong Kong, with overseas branches in Bangkok and Vietnam. Ashton Hawks' real estate portfolio is as diverse in style as it is in mega-estate location across the globe, and caters to luxury lifestyles of all kinds. Ashton Hawks takes pride in being a boutique yet original real estate consultant in the luxury market segment for the ultra-affluent.
About ParkCity Hanoi – The Mansions
| | |
| --- | --- |
| Project | ParkCity Hanoi – The Mansions |
| Developer | ParkCity |
| Location | Lê Trọng Tấn, La Khê, Hà Đông, Hà Nội, Vietnam, Hanoi, Vietnam |
| Legal Tenure | Leasehold 50 years with renewal possibility for foreigners |
| Site Area | NFA 3,524 – 5,216 sq. ft. |
| Type of development | 3-4 storeys Mansion Villas |
| Facilities & Services | Lap Pool, Lounge & Kids Pool, BBQ, Adventure Play Area, Gym, Outdoor Fitness Park, Multipurpose Hall & 24 hr. Security by Guards |