PRESS RELEASE

ROBUST U.S. ECONOMY – PRIME TIME FOR REAL ESTATE INVESTMENT
125 Greenwich – Residential skyscraper in Manhattan's financial district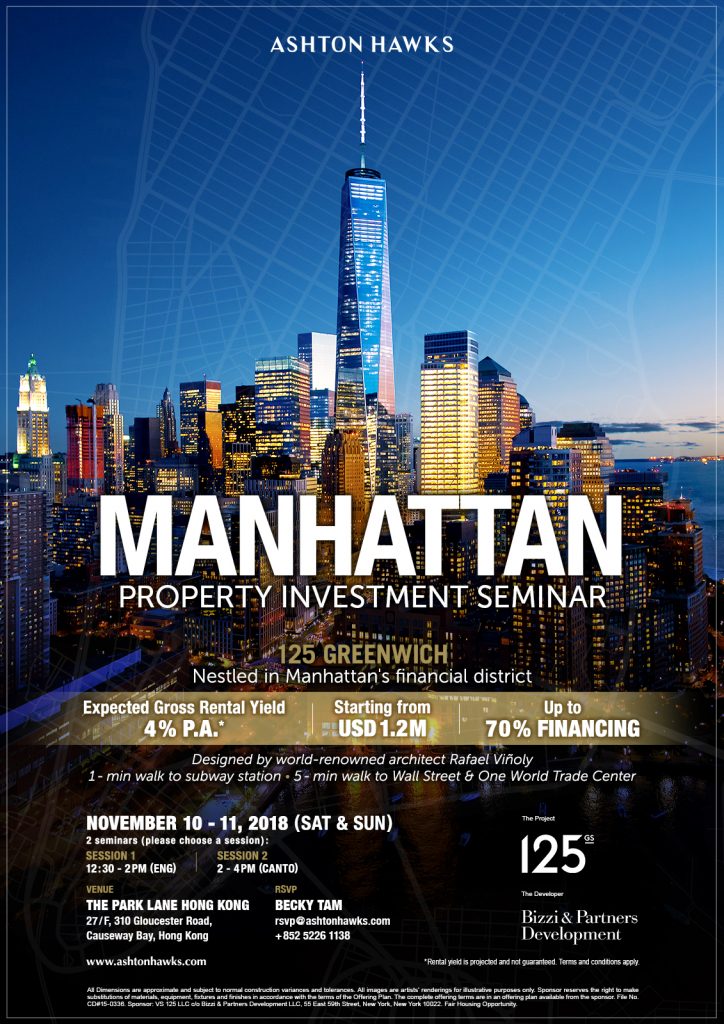 (2 November 2018, Hong Kong)
The U.S. economy has expanded at its fastest pace in 4 years in Q2 2018. The benchmark S&P 500 Equity Index has hit a record closing high in January 2018, symbolizing the swift recovery and remarkable performance of U.S. equities, which in turn boosts consumption and investment.
Fueled by U.S. economic strength and Federal Reserve raising interest rates, USD has maintained an upward momentum lately, surging 6% since February this year against other major currencies in the world and maintaining stable growth in the past decade. The strong USD has pushed investors to seek out the currency as a safe haven asset.
With the U.S. recommencing its economic growth, the renowned developer Bizzi & Partners Development grabbed the golden opportunity to launch a spectacular new property project in New York – 125 Greenwich in the heart of Manhattan.
125 Greenwich – Living in a masterpiece
Designed by world-renowned architect Rafael Viñoly, 125 Greenwich stands at 88-storeys high and offers 273 residences ranging from studios to three-bedroom and penthouse residences. Net sizes range from 418 – 3,018 square feet, with prices starting from HKD9.4M (USD1.2M).
Investors can expect a rewarding rental yield of 4% per annum with up to 70% financing. It offers future residents an exclusive chance to see the city from a new perspective and enjoy a pampered and lavish lifestyle – 15,000 square-foot amenities including sophisticated concierge services, sky pool with panoramic views of the bustling city, theater, private dining, sky lounge, spa & sauna and gym etc. It is expected to be completed by Q4 2019.
Nestled at Manhattan's financial district, 125 Greenwich is the neighbor to a cluster of soaring skyscrapers such as One World Trade Center, which is comparable to "Central" in Hong Kong. The area comprises of offices and headquarters of multinational corporations and major financial institutions, including the New York Stock Exchange, Wall Street and the Federal Hall.
125 Greenwich offers residents a unique opportunity to experience life in the most sought-after locations and communities. Residents can discover the electric vibrancy of Manhattan downtown at this lively intersection of business and leisure – with the dynamic dining scene, luxury retails, architecture and proximity to Central Park. Its unrivalled location allows easy access to subways, ferries and other public transportation.
Internationally renowned developer – Bizzi & Partners Development
The pristine 125 Greenwich is the creation of the acclaimed U.S. developer Bizzi & Partners Development.
With offices in Milan, New York, San Paolo and Tallinn, Bizzi & Partners Development is a global high end real estate developer focused on the development of premier commercial and residential properties in Europe and the Americas. Founded in 2000, it is led by an executive team with decades of experience in real estate development, including the acquisition, financing, construction and renovation of a wide array of property types.
As one of the most respected and highly sought developer in the U.S. property market, the firm has an expansive portfolio of avant-garde and acclaimed projects. The firm's current projects include Milanosesto: a 10 million square foot mixed-use project in Milan, and two additional collaborations with Pritzker Prize-winning architect Renzo Piano on Eighty Seven Park in Miami Beach and 565 Broome in New York's SoHo neighborhood. Previous New York projects include the distinguished 400th Avenue and the Leonard in Tribeca.
Mr. Davide Bizzi, CEO of Bizzi & Partners Development said, "With the opening of a vast array of high-end restaurants and retail outlets in Manhattan's financial district, this neighborhood has become one of the most desirable places to live and work. We capitalized on this golden opportunity and create this truly unmissable investment by acquiring the property at 125 Greenwich Street. By hiring the world-renowned Rafael Viñoly to redesign the building, we are confident that 125 Greenwich shall be an iconic skyscraper in the heart of New York and be popular among local and foreign investors as it is expected the redevelopment of the financial district will continue for another 10-15 years."
Mr. Kingston Lai, Founder and CEO of Asia Bankers Club, added that, "Since the 9/11 attack in 2001, Lower Manhattan has seen a tremendous growth in residential population nearly tripling the number since the attack. More schools have been built and commercial buildings are being converted to residential condos. Once known as the neighborhood shuttered at nights and weekends, it has now been replaced by new residential buildings, more tourist attractions, and growth of high-end retails and restaurants. The future of residential population growth is tremendous in the lower Manhattan neighborhood."
Mr. Terence Chan, Managing Director of Golden Emperor Properties states that, "125 Greenwich is nestled in the most impeccable location in New York's financial district, in between the redevelopment around One World Trade Center and the traditional finance hub of Wall Street. The district now hosts a high-end luxury lifestyle most suited for its finance professionals amongst international firms like Goldman Sachs, Merrill Lynch and J.P. Morgan. Moreover, property price in Manhattan has remained steady within the last decade, increasing by only 50% with properties sold within an average of 100 days. Its rental market also shows excelling performance, with a low vacancy rate at 1.58% and properties renting out within 1 month. As a slow-rising property market in the USA under a steady economy with a revolutionary redevelopment plan, New York presents unique investment opportunities. The city's strong tenant market, coupled with a high market liquidity on a global scale, are compelling reasons to invest into New York's property market now."
Ms. Michele Cheng, Director & Partner of Ashton Hawks said: "The current real estate prices in New York are of good value as it is lagging behind other major cities. According to UBS Global Real Estate Bubble Index, New York has a very low risk of real estate bubble burst compared to major world cities such as Hong Kong, Munich, Toronto and London. Prices of Manhattan's properties has much upside potential as it has only risen by 70% in the past 10 years. The foreign investment in the U.S. luxury residential real estate market has also hit a record by reaching USD7.48 billion with Manhattan as one of the key locations for wealth preservation for the ultra-affluent."
Mr. Frederick Ho, Director & Partner of Ashton Hawks commented, "Real estate in Manhattan's financial district has also been a popular choice with occupancy rate over 98% in its rental market as demand for housing for locals and expats is huge. In terms of sales volume, condos in the financial district is one of the best performing districts within Manhattan. All in all, 125 Greenwich is the perfect choice for investors who wish to have a stable rental yield and capital gain of their property investment."
The launch of 125 Greenwich in Hong Kong will take place on 10-11 November 2018 at The Park Lane Hong Kong (27/F, 310 Gloucester Road, Causeway Bay).
– End –
For media enquiries, please contact:
Ashton Hawks
Cherry Chan
PR & Branding Vice President
Email: [email protected]
Tel: (852) 2912 0960
Golden Emperor Properties (HK) Ltd.
Christina Cheng
PR & Marketing Director
Email: [email protected]
Tel: (852) 2912 0920
Asia Bankers Club
Damian Sung
Associate Director
Email: [email protected]
Tel: (852) 3998 3001
About Ashton Hawks
Ashton Hawks was established by a group of renowned investment gurus and private collectors who laid the very foundation of the discerning Ashton Hawks, balancing luxury leisure lifestyle and investment. Our headquarter office is located in Hong Kong, with overseas branches in Bangkok and Vietnam. Ashton Hawks' real estate portfolio is as diverse in style as it is in mega-estate location across the globe and caters to luxury style of all kinds.
www.ashtonhawks.com
About Golden Emperor Properties (Hong Kong) Limited
Golden Emperor Properties (HK) Limited is a Hong Kong-based company that offers international properties to clients in Hong Kong and globally. The company works with property developers from Thailand, Japan, Malaysia, the United Kingdom, Europe and many others. The company has a team of dedicated sales agents that can provide consultancy and information on relevant transaction-related topics such as taxation, sales & purchase procedures, payment schedules, and many other.
www.goldenemperor.com
About Asia Bankers Club
The Asia Bankers Club is an investment club for banking and finance professionals in Asia. With a member base of over 50,000, the Asia Bankers Club organises events for its members and provides physical assets for investments, such as properties, fine wines, art, timepieces, and collectibles. Our members are from top tier investment, private and consumer banks, asset management companies, private equity firms, hedge funds, and sovereign wealth funds primarily located in key financial centers.
www.asiabankersclub.com