Vista River Gardens
---
Manchester, United KingdomHKD 2,490,000+
Manchester – voted the "Most Liveable City in the UK", the third "Best City in the World" chasing San Francisco and Amsterdam. People living in Greater Manchester is set to increase to 2.95m by 2031, it isn't up there with the biggest and best for nothing. 
Renaker, leading property developer is famous for delivering Manchester's most iconic developments, now presents you the latest project – Vista River Gardens at Trinity Island. With a proven track record of delivering sustainable and high-quality developments at pace, investors have long awaited this exciting new release.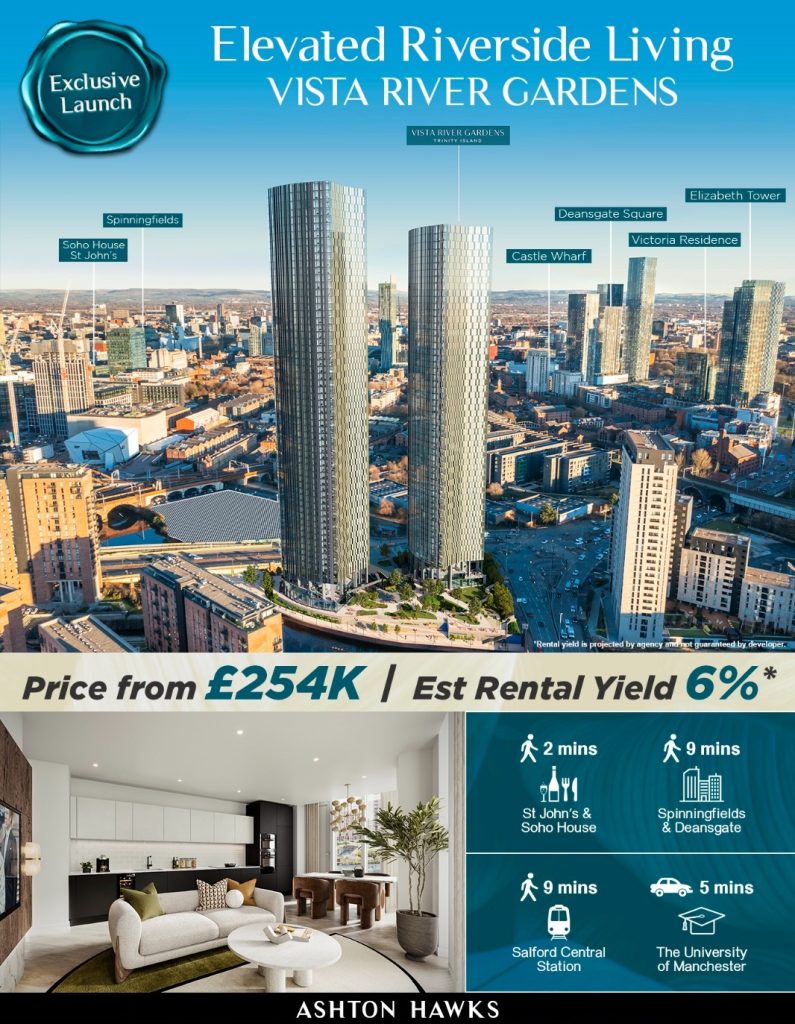 Vista River Gardens, is perfectly situated in the heart of Trinity Island, located to the left with the children's play area and a dedicated dog park on the ground floor. Vista River Gardens is a 55-storey building, with a panoramic view of the charming riverside scenery and the prosperous and bright cityscape. Extraordinary, distinguished guests enjoy the high-rise Manchester city landscape. The development offers 1-bedroom, 2-bedroom, and 3-bedroom apartments ranging in size from 51 to 83 square metres with elevated luxury furnishings.

Why does Vista River Gardens appeal to everyone?
3 minutes walk to St John's Culture and Enterprise Quarter
5 minutes drive to well-known international schools – The University of Manchester, University of Salford, and Manchester Metropolitan University
9 minutes walk to Spinningfields – the core financial hub
9 minutes walk to Salford Central Railway
9 minutes walk to Deansgate / Hilton Hotel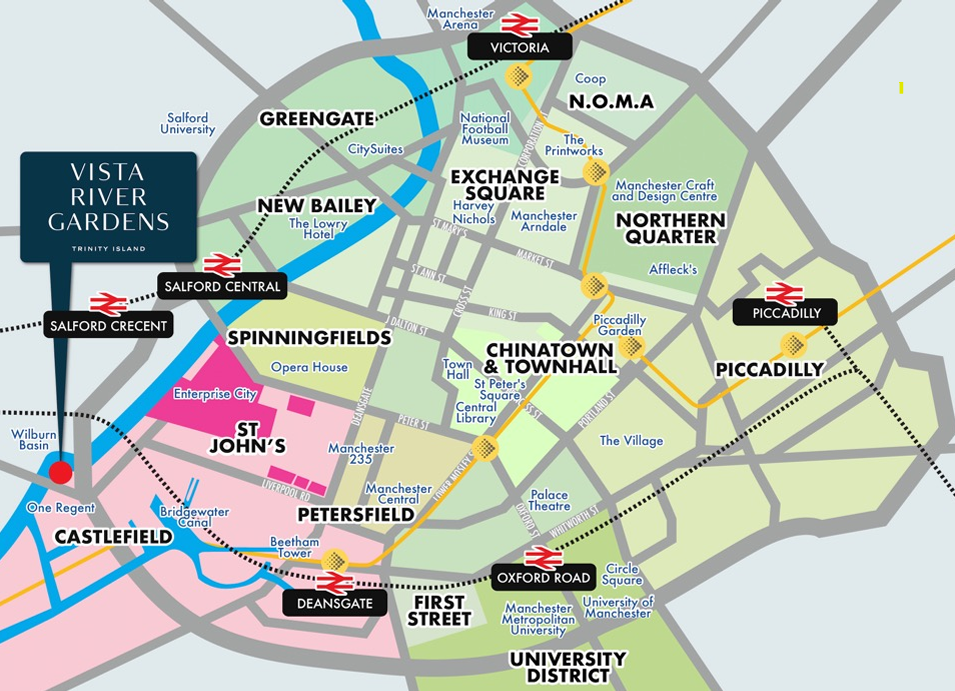 Spinningfields – the core financial hub in Manchester 
Manchester is the second largest consulting market in the UK and a significant number of our FTSE 100 clients have operations there. The city is also easily accessible from neighbouring cities and is a hub that's rich in talent – particularly digital talent – with an emphasis on project management, change, process and agile skills. As we continue to build the most enviable culture on the planet, this opening makes perfect sense for us. It couldn't be more aligned to our current needs, particularly in our large and growing Managed Services deals — Tony Doocey, Managing Director, North Highland
1 Bedroom price from £254,000Estimated rental yield of 6%*Estimated completion in Q4 2025
Here is The Renaker Effect!
Bankside Colliers Yard M3, Deansgate Square, Castle Wharf, Crown Street's apartment keep uplifting with their price, it uplifts for more than 30% till April 2023. For example, the price of 1 Bed Standard at Bankside Colliers Yard is increasing by 46% and the price of 2 Bed Extra Large is increasing by 45% in general.

Why is Manchester property market a sound investment?
Attractive growth in the next five yearsAccording to JLL's 2022/2 'Big Six' research, the sale prices of Manchester city centre homes will increase by 19.3% over the next five years, which are the highest predicted across Birmingham, Bristol, Edinburgh, Glasgow, and London.22% increase in Manchester RentsThe report also revealed that Manchester was the UK's best-performing city for rental growth in 2022 and the city centre recorded a 22% increase in achieved rents in December 2022. The average rent for a one-bed flat in the city centre was £1,172 per calendar month and £1,495 for a two-bed flat. Manchester is seeing even greater yields of 9.4% as rental values push ahead of house prices.Lack of supplyManchester's undersupplied rental property market underpins its strong investment potential. With an unrivalled lifestyle offering, a growing talent pool, and a graduate retention rate of over 50%, Manchester's growth is only just beginning.

Why do investors love Renaker?
1. Manchester's Leading DeveloperRenaker is Manchester's leading developer with a strong reputation and a proven track record of successful projects. Great investment opportunity as properties are with projected strong rental yields at +6%. 2. Aspirational New NeighborhoodsRenaker committed to creating new, aspirational neighborhoods for the long term where communities can enjoy and thrive. Momentum has already been established through the delivery of the iconic Deansgate Square, Castle Wharf, Crown Street Victoria Residence and Elizabeth Tower; with The Blade and Three60, both currently under construction and to follow over the next two years.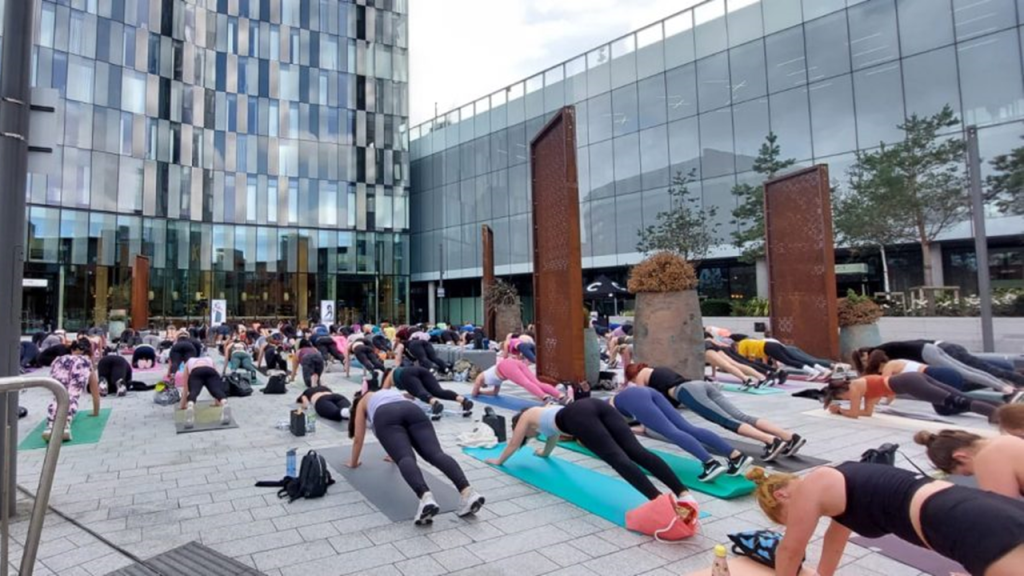 3.  Service Levels Akin To A 5*hotel"Choosing a Renaker apartment, also means you're choosing a lifestyle."Renaker works closely with the management companies, and our on-site concierge teams all have hospitality backgrounds to create a service level akin to that of a 5* hotel.4.  Sustainability At The CoreThe ethos is to develop and build sustainable facilities, homes, and amenities that communities desire. As part of the policy, strive to continually improve the buildings' carbon footprint without compromising on quality. Renaker is proud to say that over 90% of our apartments are EPC-rated B*.