31 Mar (Thur): 4pm (Eng) | 8pm (Canto)
2 Apr (Sat): 11am (Eng) | 2pm (Canto) | 4pm (Canto)
3 Apr (Sun): 11am (Eng) | 2pm (Canto) | 4pm (Canto)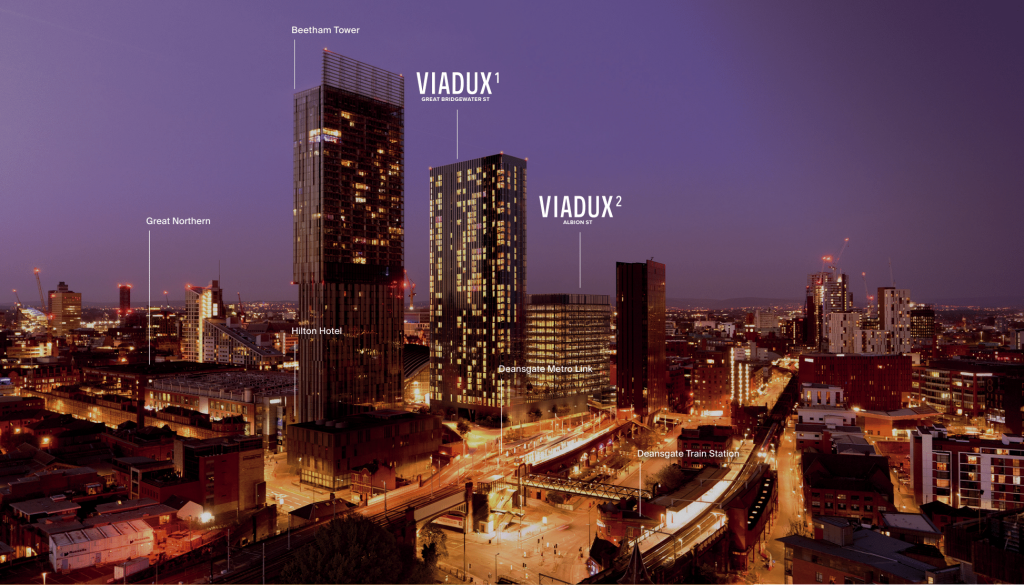 Energised City – Viadux is a tale of two towers in the heart of the city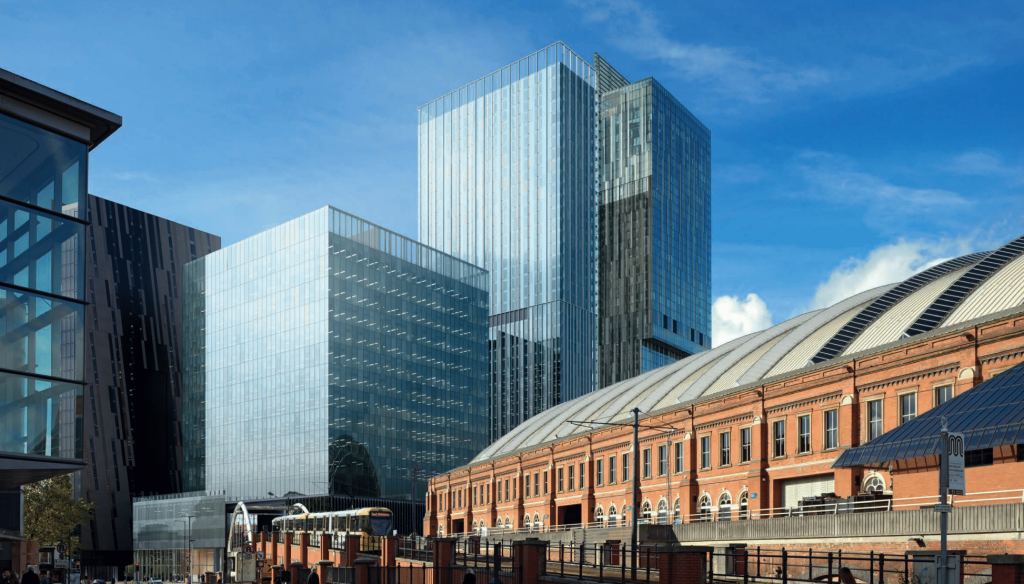 Right above the Deansgate Castlefield Metro, converging the 2 Railway Line that connect easily to other major cities and towns

Located in the city center of Manchester
Viadux is a high-end development offering an impeccably modern and luxurious lifestyle whilst connecting the city's industrious past and its forward-looking vision. Not only conveniently sits above the viaduct between Deansgate and Castlefield, residents will fully enjoy the relaxing swimming pool, spa, the lounge bar and the co-working spaces which will allow residents to work from home. To be completed in 2024, the units will benefit from the magnificent views of the city's emerging skyline. The development will be linked to a modern office tower via landscaped gardens.
Witnessed the history from the Roman settlement and the Industrial Revolution

The Castlefield Locks sits in the city's historic canal basin where converted warehouses are now home to modern apartments, busy restaurants and trendy bars. Deansgate Locks is one of the most popular areas of Manchester city centre, making it an ideal place for a night out.

Converted from the historic Victorian arches, the development will connect to the busy thoroughfare of Deansgate, Civic Quarter, Manchester Central Convention Complex, as well as the Science and Industry Museum. Bars, restaurants and coffee shops in the neighborhood will also provide opportunities for the residents to relax and re-energise themselves.

A-Grade Commercial Surroundings

Adjacent to Manchester's landmark Beetham Tower and the hotel Hilton Manchester Deansgate, the project is just 5 minutes walk to Spinningfields where is MNCs located such as Barclays, Deloitte, HSBC while just 5 minutes drive to the new CBD New Bailey.
Project Highlights

Salboy's flagship development at the centre of Manchester

Sitting above the Deansgate viaduct and bridging a Metrolink tram line

Offers 375 luxury apartments, spreading across 40 storeys

Exclusive amenities: A swimming pool, gym, private dining, and a karaoke bar
At the Centre of Everywhere

With the Deansgate Castlefield Metrolink stop just metres away, you have the ease and convenience of the entire tram network serving the city and beyond. Deansgate rail station links to the country's train network, connects you quickly and easily to other major UK cities and towns.
1 min walk to Deansgate Train Station & Castlefield Metro

3 mins walk to the Great Northern Square

5 mins walk to Spinningfields (CBD)

7 mins walk to St. Peter's Square

10 mins walk to Arndale Shopping Centre & Harvey Nichols

15 mins walk to

University of Manchester

50 mins to London (By the under constructing High Speed 2 railway)
1 Bedroom price from £265,000 | Estimated rental yield of 5%*
|Estimated completion in Q2 2024

According to Halifax, UK house prices rise at fastest rate in 15 years. And with the beneficial geographical location of the apartment, Viadux may be another potential property that investors can never missed!
【Manchester Property Investment Webinar】
Date:
31 Mar (Thur): 4pm (Eng) |8pm (Canto)
2 Apr (Sat): 11am (Eng) |2pm (Canto) |4pm (Canto)
3 Apr (Sun): 11am (Eng) |2pm (Canto) |4pm (Canto)
Venue: Zoom (Webinar)
WhatsApp / Enquiry:5226 1138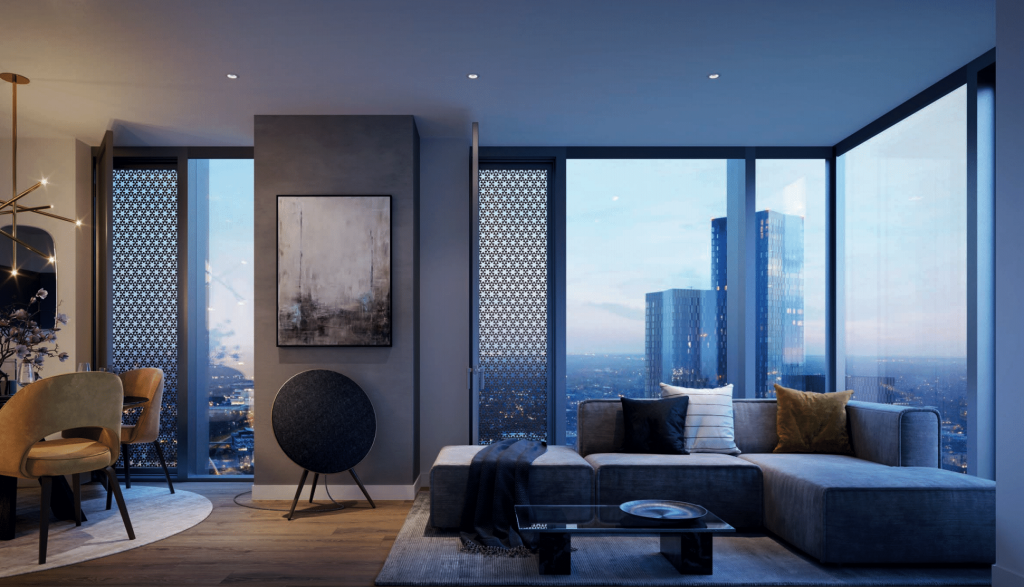 Floor to ceiling views of the spectacular city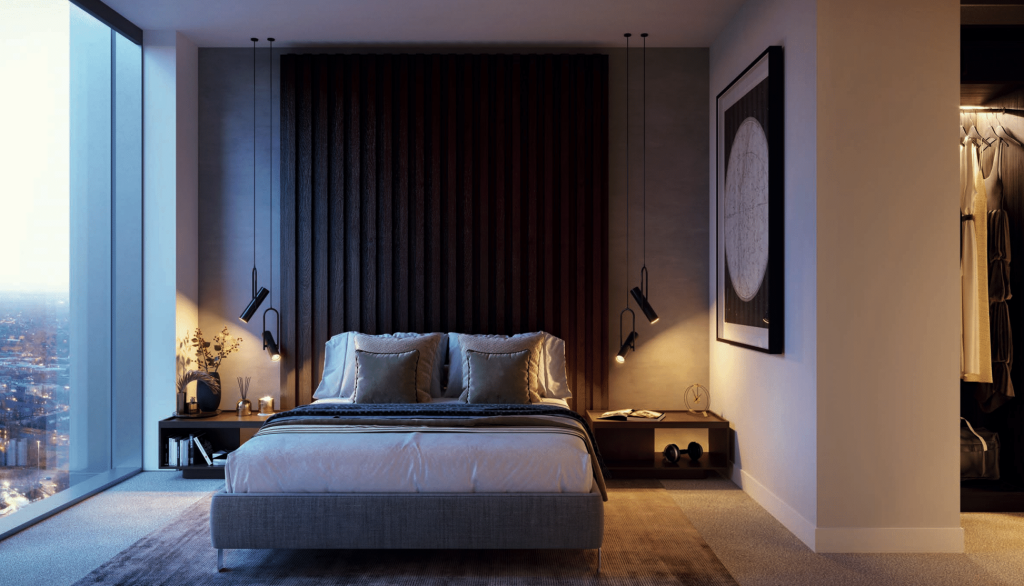 The elegant 40-storey tower, designed by
internationally renowned Simpson Haugh Architects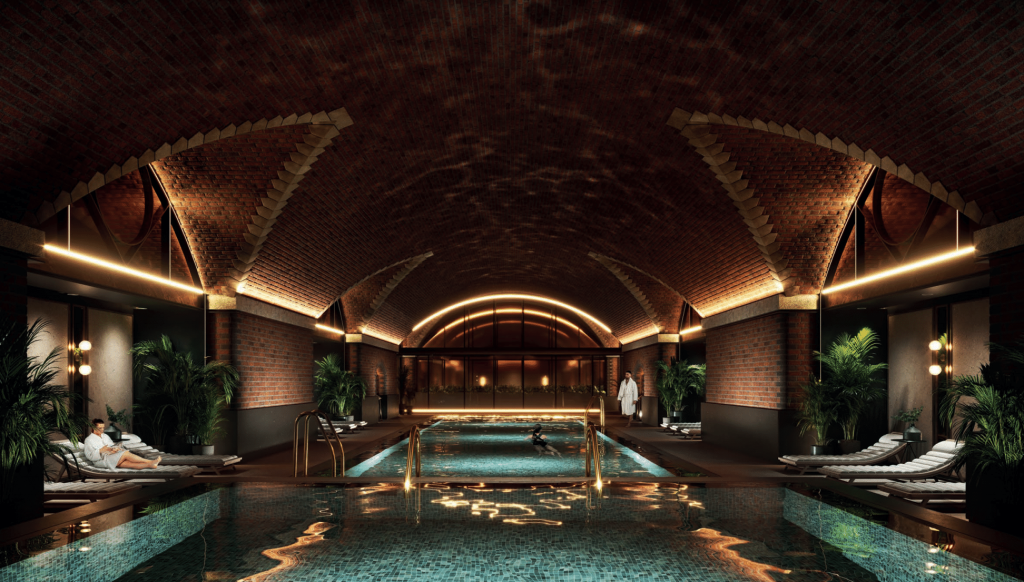 Impressive hotel-grade Amenities –
A large heated swimming pool Sauna and Steam room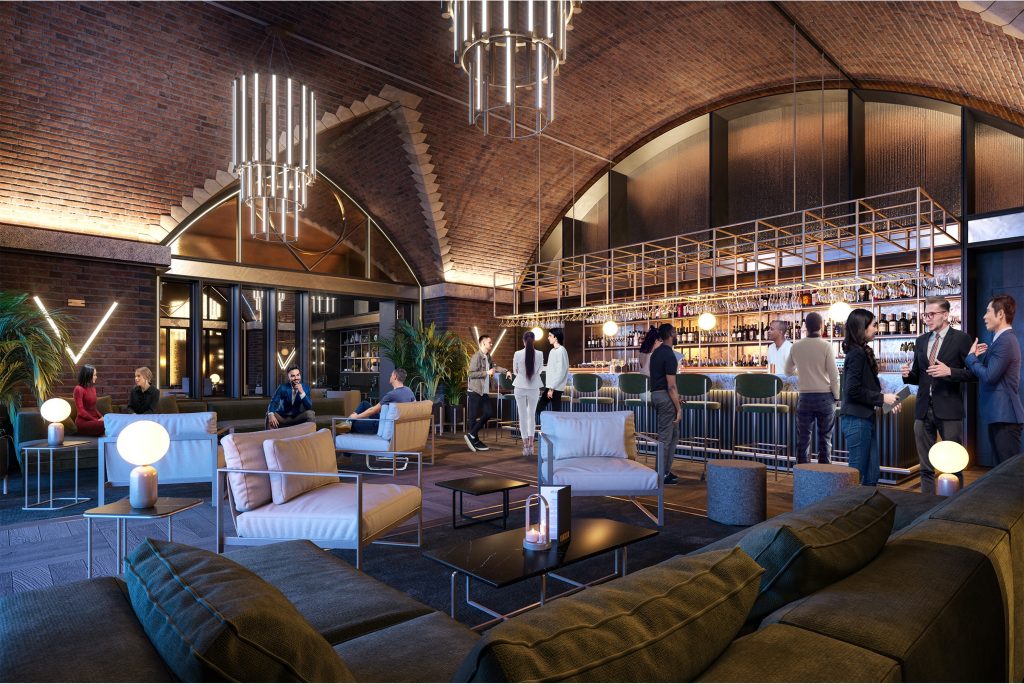 The building itself also be home to a carefully curated selection of bars and restaurants, each offering something uniqueness to residents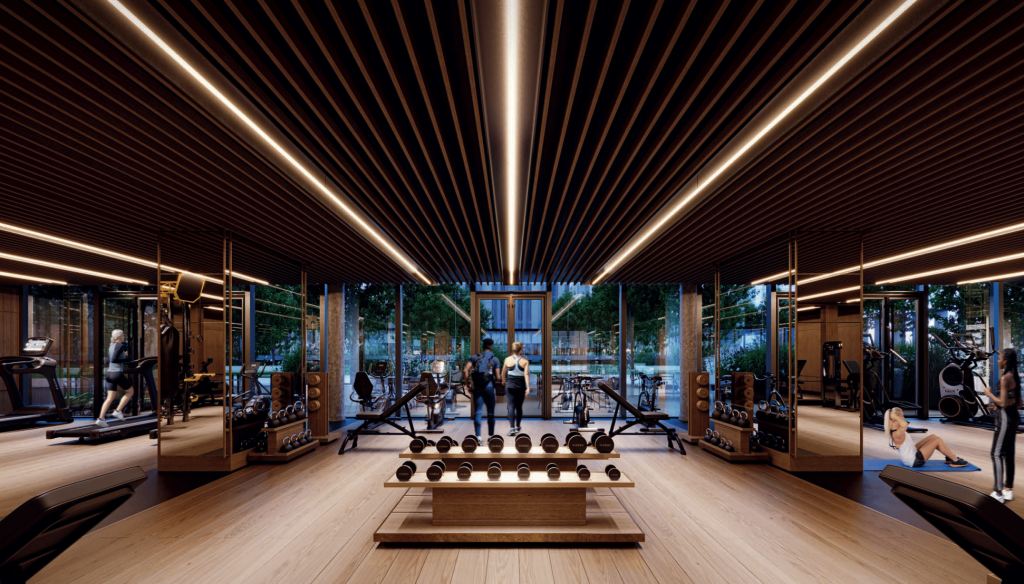 A fully equipped gym is convenient for residents to stay active with personal training, yoga and group exercise studios and outdoor spaces
Disclaimer:The information, text, photos contained herein are provided solely for the convenience of interested parties and no warranty or representation as to their accuracy, correctness or completeness is made by Ashton Hawks or the sellers, none of whom shall have any liability or obligation with respect thereto. These offerings are made subject to contract, correction of errors, omissions, prior sales, change of price or terms or withdrawal from the market without notice. Information provided is for reference only and does not constitute all or any part of a contract. Ashton Hawks and its representatives work exclusively in relation to properties outside Hong Kong and are not required to be nor are licensed under the Estate Agents Ordinance (Cap. 511 of the Laws of Hong Kong) to deal with properties situated in Hong Kong. Digital illustrations are indicative only. *Rental yield is projected by the agency and not guaranteed by the developer.