PRESS RELEASE

EXCLUSIVE LAUNCH OF DE LA SOL PHASE 2 CELLO TOWERHottest project in HCMC – Phase 1 sold out within days previously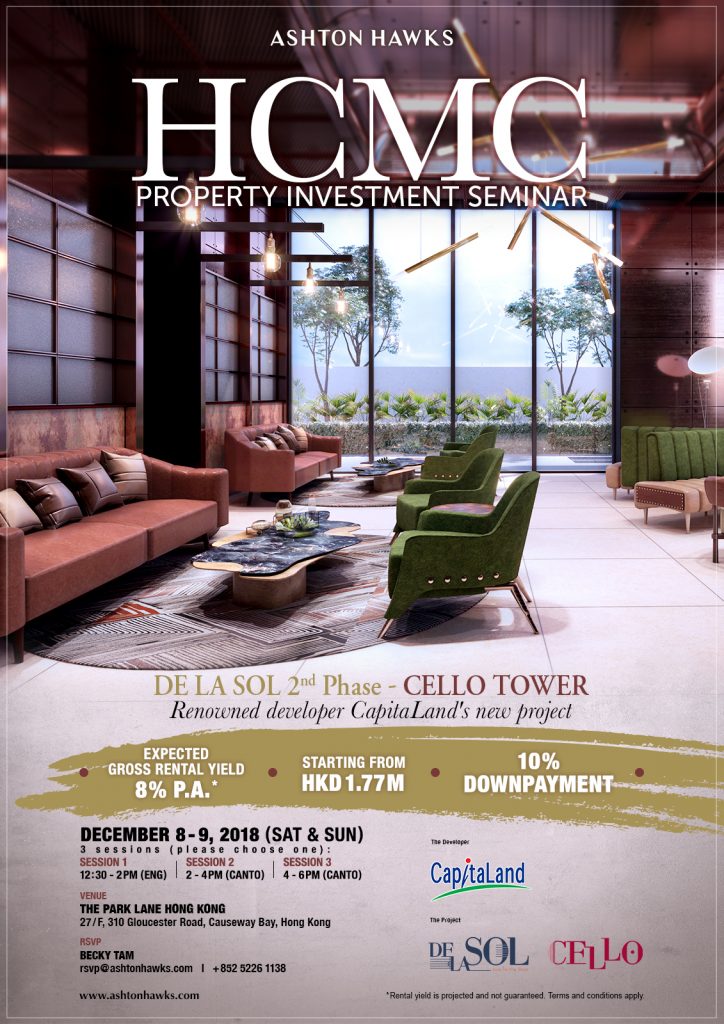 (28 November 2018, Hong Kong)
Vietnam – Key Winner of U.S.-China Trade War
Amidst the U.S.-China trade war, Vietnam's exports have surged 15.2% y-o-y, which amounted to over USD202 billion for the first ten months of 2018. According to a survey from U.S. and Chinese companies, Vietnam has emerged as a key winner in the trade war, with companies moving production to Vietnam to escape tariffs. Goertek, the Chinese manufacturer of Apple's Airpods, have confirmed plans to shift their production lines from China to Vietnam as the trade war continued to escalate. Other multinational corporations and chains such as Amazon, Mazda, Mandarin Oriental, H&M and Zara have kicked off their expansion plans in this booming country in 2018.Reports from the World Bank affirmed that the forecast of Vietnam's GDP growth shall reach the target of 6.5-6.7% in 2019. Future development plans in Vietnam are likely to accelerate its thriving economy. Construction on its biggest airport – the Long Thanh International Airport shall commence in 2020 and target to operate in 2025. Situated at 40km east of HCMC, the Long Thanh International Airport is expected to overtake the current airport with an annual capacity of 100 million passengers.With Vietnam becoming a dynamic country and an attractive investment destination, the award-winning developer CapitaLand seized the opportunity to launch the exquisite De La Sol Phase 2 Cello Tower.
De La Sol Phase 2 (Cello Tower) – Hottest Project in HCMC
With the foreign quota of Phase 1 sold out within days previously, De La Sol Phase 2 – Cello Tower is a luxury condominium in HCMC by the prestigious developer CapitaLand. De La Sol, with the luxury and privacy it offers, is conveniently situated in the bustling locality of District 4 with proximity to the city's central business district (District 1), situated at a 5-minute drive away. One can easily access Districts 1, 2, 5 and 7 and their many tourist attractions and nightlife venues as well as offices, conference halls, schools and shopping centers.De La Sol's Cello Tower is a 204-unit condominium standing at 21-storeys high and offering 2-bedroom units with the highest standards. With its dynamic theme of music, residents can enjoy its active facilities and Instagram-worthy surroundings including a magnificent 50-metre pool, sky theatre, co-working space, cinema room, games room, car park, and security services, creating the perfect experience for residents to immerse in a young and vibrant lifestyle. Prices starts at HKD1.77M with 8% p.a. projected rental yield. It is expected to be completed by Q4 2020.
Award-winning International Developer – CapitaLand
Headquartered and listed in Singapore, CapitaLand is one of Asia's largest real estate companies with presence in around 150 cities across 27 countries. It is widely recognized as the leading and long-standing corporation in Singapore, winning for the 2nd consecutive year in the Euromoney Real Estate Survey 2018. Its real estate expertise is broadly diversified with its businesses in 4 key sectors – residential, office, shopping malls and serviced residences. The company is approximately 40% owned by the Singapore Government through Temasek.As one of the most respected and highly sought-after developers in Vietnam's property market, CapitaLand has planted its roots in Vietnam with over 24 years of presence, with 13 residential projects and 22 serviced apartments launched over the years. Its acclaimed projects include De La Sol (Phase 1, Alto Tower), The Vista, Vista Verde, Feliz en Vista, D2eight, d'Edge and D1MENSION. CapitaLand's proven track record soundly convinces property investors with its standard of excellence and professional expertise in real estate projects and services.
Ms. Michele Cheng, Director & Partner of Ashton Hawks,
 said: "Riding on the success of Phase 1, CapitaLand is introducing De La Sol Phase 2 – Cello Tower in HCMC's District 4. De La Sol is the first international development in District 4 of Ho Chi Minh City, adjacent to the traditional CBD in District 1. Its close proximity to District 1 but significantly lower prices are appealing to investors. District 4 is one of the most sought-after districts as seen by co-working provider WeWork moving into Etown in District 4 and the overflow of developments from District 1 to District 4 has made it promising for developers investing in District 4. The gentrification of this district is a positive sign for the housing prices. Vietnam's economic success is largely reflected in the skyline of HCMC's CBD in District 1, which is expanding upwards as well as outwards. Currently, land costs in District 4 are only 1/4 of comparable land in District 1. District 4 is easily accessible by vehicular bridges and positioned to be HCMC's CBD Lite, it is one of the fastest growing districts in the city, hosting ongoing projects including a massive Riverfront development plan. HCMC's economic success will continue as the city welcomes businesses and FDI into the city through a multi-billion-US-dollar Long Thanh International Airport, constructed to be Vietnam's largest and most iconic airport. As HCMC's economic boom continues, the property market will hold strong. Developing districts like District 4 now holds an immense development and investment prospect."
Mr. Frederick Ho, Director & Partner of Ashton Hawks
 commented: "Boosted by the escalating trade war between U.S. and China, producers have diversified their supply chains to Vietnam due to its low labour costs and modernized factories. Furthermore, the Comprehensive and Progressive Agreement for Trans-Pacific Partnership (CPTPP) has enabled Vietnam to gain duty-free access to the EU market, further boosting FDI and export driven growth. The anticipated increase in FDI is expected to stimulate a further expansion of different industries and increase productivity in various sectors. Besides, the number of expats in Vietnam has surged as multinational corporations has established offices in the country. According to a HSBC survey, Vietnam ranks 19th in the best countries for expats globally, in terms of opportunities and quality of life. It can be foreseen that this trend shall continue to accelerate at a promising rate, elevating the already strong demand of rental properties in Vietnam and further boosting its property market."The launch of De La Sol Phase 2 (Cello Tower) will take place on 8-9 December 2018 in The Park Lane Hong Kong (27/F, 310 Gloucester Road, Causeway Bay).– End –For media enquiries, please contact:
Ashton HawksCherry Chan
PR & Branding Vice PresidentEmail: 
[email protected]
: (852) 2912 0960
About Ashton Hawks
Ashton Hawks was established by a group of renowned investment gurus and private collectors who laid the very foundation of the discerning Ashton Hawks, balancing luxury leisure lifestyle and investment. Our headquarter office is located in Hong Kong, with overseas branches in Bangkok and Vietnam. Ashton Hawks' real estate portfolio is as diverse in style as it is in mega-estate location across the globe and caters to luxury style of all kinds.www.ashtonhawks.com